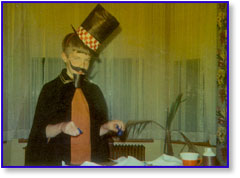 Patrick grew up in a small central Minnesota town called Bird Island. There were no juggling or magic clubs in his area back when he was growing up. He was always interested in magic and when he was about 8 years old he put together his first magic act for his family. He had to make all of his props, not knowing where he could get "real" magic props. Later in high school, Pat and his mother drove the 70 miles from their home to the Minnesota Renaissance Festival.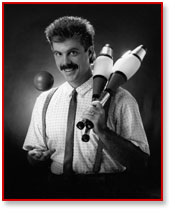 Pat approached a juggler (after his show) and asked if the juggler could show him how to juggle. Without hesitation, the juggler took the time (probably only 5-10 minutes) to show him the basic 3 ball cascade juggling pattern. Little did the juggler know that those 5-10 minutes would be a pivotal point in Pat's life. Later that year Pat entered a talent show at his high school. He juggled to the theme from the first "Rocky" movie with a highly energetic routine.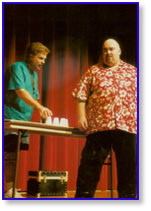 Pat at National FCM Convention 2003
When he went on to college at the University of Minnesota, he joined a newly formed juggling club. They needed a name to list as the president of the club. Low and behold, Pat was deemed the President back in 1979. Later during his college years, he traveled to Daytona Beach, Florida where he saw a juggler performing on the beach. After watching his program, Pat realized that he didn't have to "just juggle" to entertain, but that he could actually have a fun and exciting message while juggling all of the different props. Arriving back in Minnesota, Pat put together a 20 minute juggling program.
In 1985, Pat married his wife, Dawn. In the earlier years of their marriage Pat and Dawn performed together. Dawn played the electric keyboard and sang. Shortly before children arrived in 1989, Dawn became unavailable to perform with Pat. Around the same time, he became a member of a group called the FCM (Fellowship of Christian Magicians). This group consisted of jugglers, clowns, chalk artists, ventriloquists, and, of course, magicians. During this time, Pat learned additional magic tricks from library books, videos, and other magicians.
During a career change, while attending vo-tech school, he performed his juggling and magic routine full time doing mainly elementary and junior high assembly programs, along with church and corporate work. He did approximately 300 shows in a 2 year period.
Pat has continued to do programs and entertain audiences with his unique style and vibrant personality. He is currently the Vice President of the local chapter of the Fellowship of Christian Magicians and is a member of the IJA (International Jugglers Association).
HOME | PROGRAM | REFERENCES | BACKGROUND | CONTACT PATRICK
DAWN GLESENER PHOTOGRAPHY | GLESENER.NET
© 2004 Patrick Glesener Juggler & Illusionist
Site Design - Soulo Design, Inc.