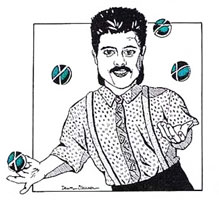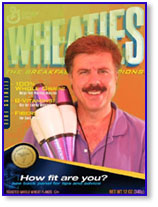 Patrick's shows are appropriate for all ages and events. In years past, Pat was a regular performer at the Minnesota State Fair, Edinborough Park, and Mary's Shelter. In the past 20 years, he has performed for a variety of occasions including events for the St. Paul Pioneer Press, Decathalon Club, Edina Realty, Embassy Suites, Apple Valley Fire Department, Norwest Bank, St. Paul Children's Hospital, Northwestern Bookstore, over 150 elementary schools and over 500 churches.
Recent Clients:
American Express Financial Advisors

Lifetime Fitness

Wells Fargo

Boys and Girls Club of America National Convention

City of Buffalo Parks and Recreation

Birthday parties and several juggling workshops.
Media Appearances:
Pat has been spotlighted on a local CBS affiliate, WCCO TV, for a 'Dimension' news segment.

His juggling has also been seen on several local TV stations. ( KMSP 9, KSTP 5).

He was interviewed by DJ Chuck Knapp on KTIS radio during their recent anniversary celebration.
What people have said:
"Pat, I think your Juggling Act is absolutely tremendous- and would hold any audience- any age captive for 45 minutes". (Ann Kiemel Anderson, Idaho Falls, Idaho-well known author).
"Your presentation (for cancer patients and their families) was fantastic and a highlight of the evening". (Dee Hance, Health One Buffalo Hosp., Buffalo, MN).
"… a refreshing, innovative act…"
"….you really specialize in wholesome family entertainment…."
"….you are gifted at what you do, this is what you should be doing…"
Victim of Patrick's Magical Charisma:
"….you are the most talented, handsome performer I've ever seen in my life…" (Dawn Glesener, Pat's wife- a biased opinion).
HOME | PROGRAM | REFERENCES | BACKGROUND | CONTACT PATRICK
DAWN GLESENER PHOTOGRAPHY | GLESENER.NET
© 2004 Patrick Glesener Juggler & Illusionist
Site Design - Soulo Design, Inc.